This article is for sharing the transcription of debates or comments to my articles that I believe don't really fall into any specific category, but that I do believe are of value. They are being presented so that the residents of Newberg and this town can have more information about the current events and the responses my articles are getting from residents in the community who disagree with my views. Everything presented is publicly available information that can be seen by anyone and nothing is private, as everything said was volunteered by the individual who said it.
If you are unfamiliar with my previously published articles here is a list of them,
I believe that providing these unfiltered communications is of interest to the city community and that I have presented a fair and balanced reporting of the issues debated. Although I am no longer professionally a journalist and I am not writing these to be a commercial journalist endeavor, I am still aiming to abide by a high degree of code of conduct to provide an accurate and balanced representation of the people who I disagree with and whom disagree with me.
Some of these exchanges may have new responses since the time of this posting. I have tried to provide the full context and number of posts the individual has made which is current as of the time of this publishing. If I believe they contributed any further comments in those threads that are of material significant to the argument they are making, I will try to update this article to include those replies they sent.
A Short Exchange About Whether Or Not These Are "Real Debates"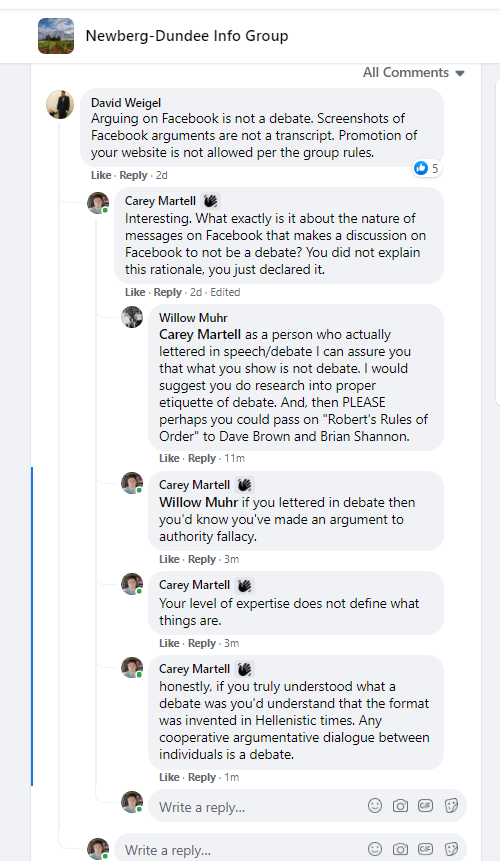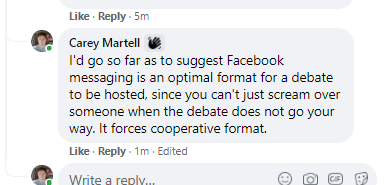 I realize I didn't contest transcript, which was an oversight.
I'm actually at a loss on why they believe the presentation of these debates on this blog is not a transcript. A transcript is simply a printed copy of something that was said, and given the conversational nature of Facebook messaging in groups, I think the definition qualifies. While I am presenting the arguments in the format of a collection of screenshots, it doesn't change that this is a digital print format and that a screenshot is still a copy, and that this article is composed of several pages organized together to reproduce the experience of reading it on Facebook. I don't see any value in debating this in the absence of the actual issues; it feels like they are fixating on these details when they can't refute my actual claims.
A Short Exchange with Ryan Clarke of the Newberg Graphic, Who Does Not Like My Criticism of His Reporting In Prior Articles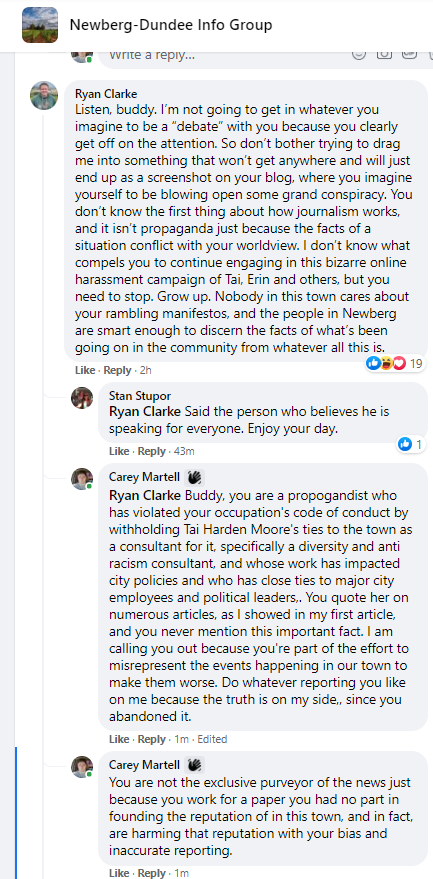 A Disagreement With My Views on the Hanging of Politically Divisive Symbols in the Schools and my Rebuttal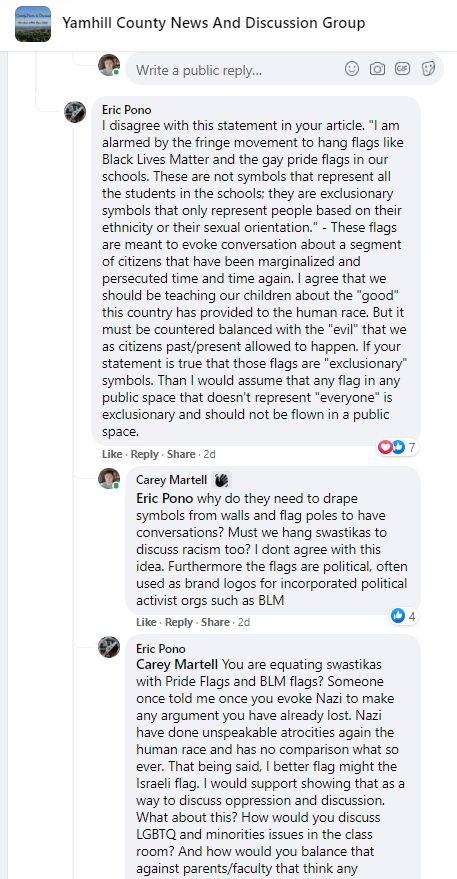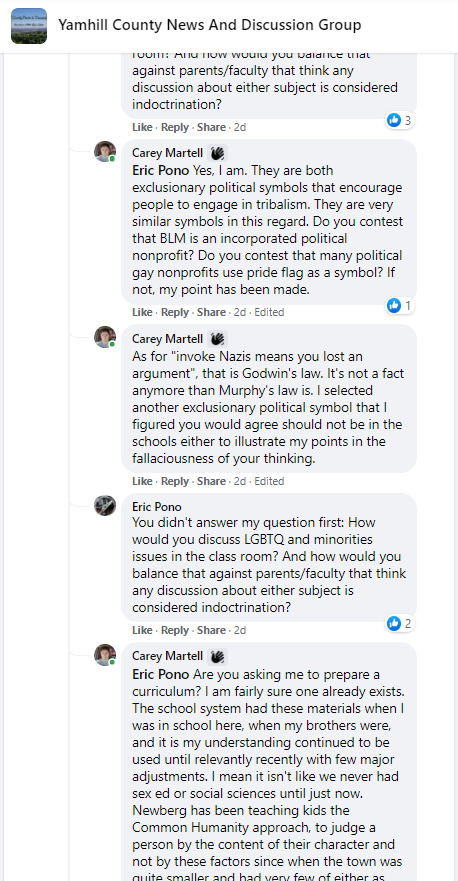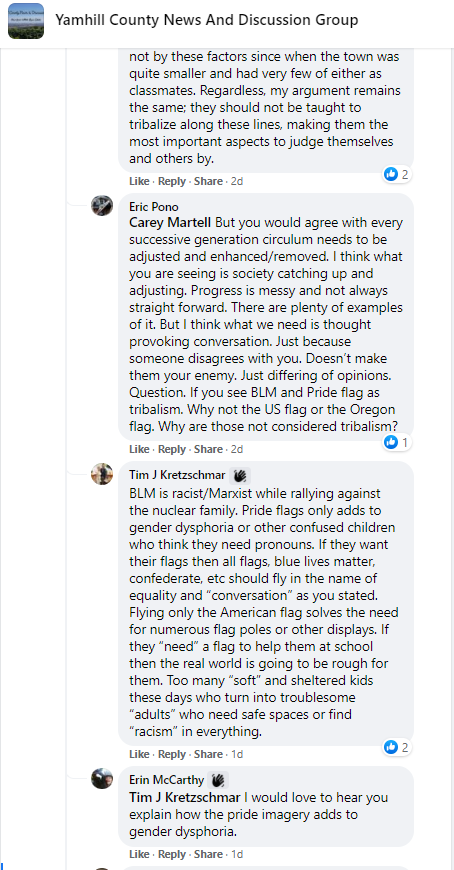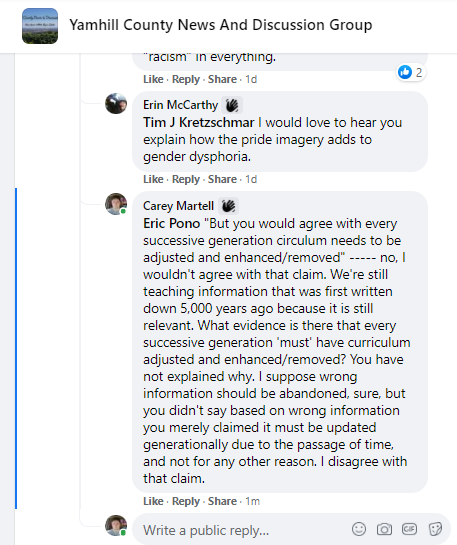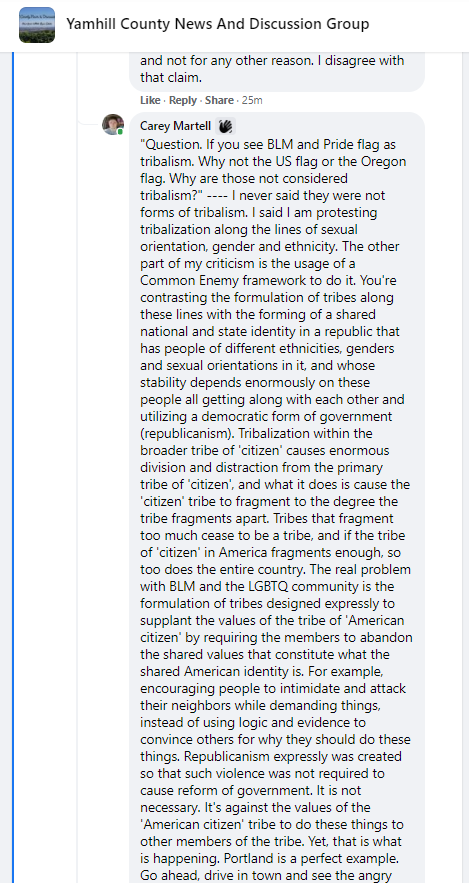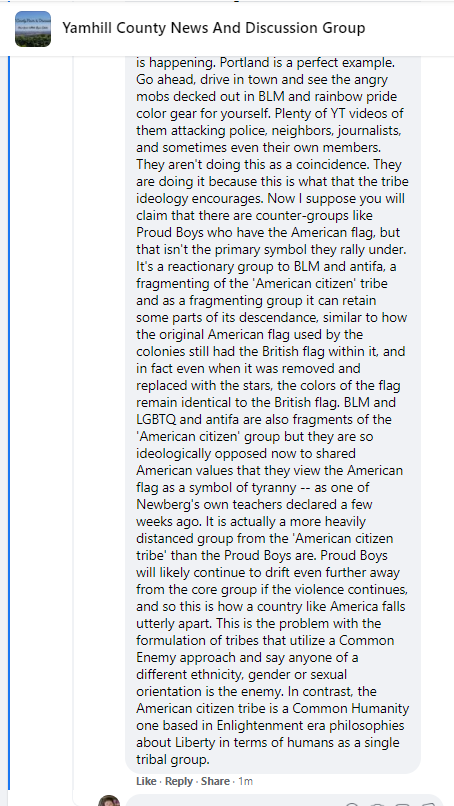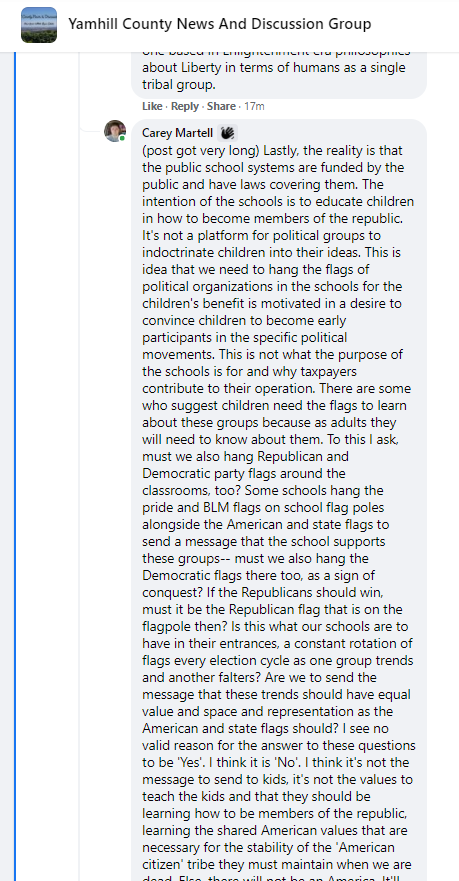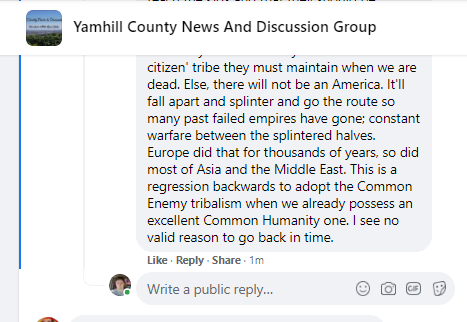 A Short Exchange with Erin McCarthy About Whether My Opinions Are Newsworthy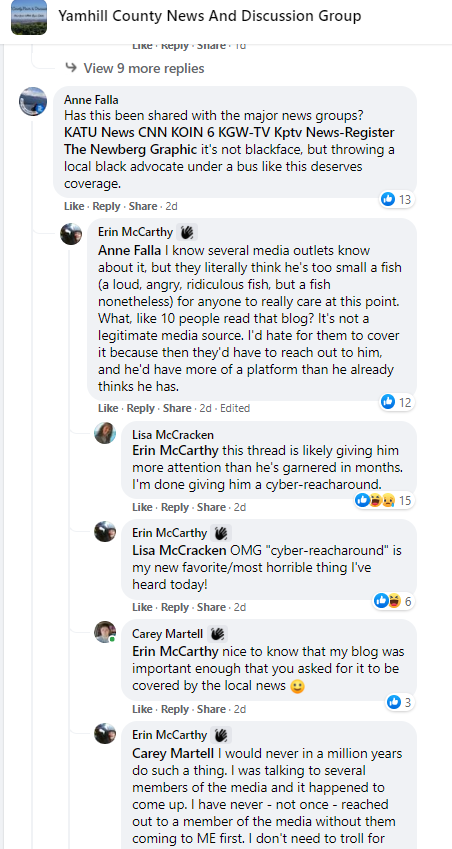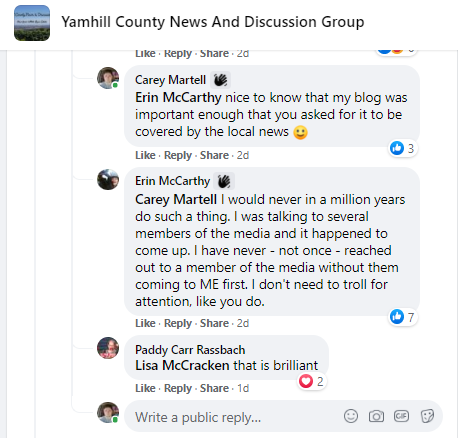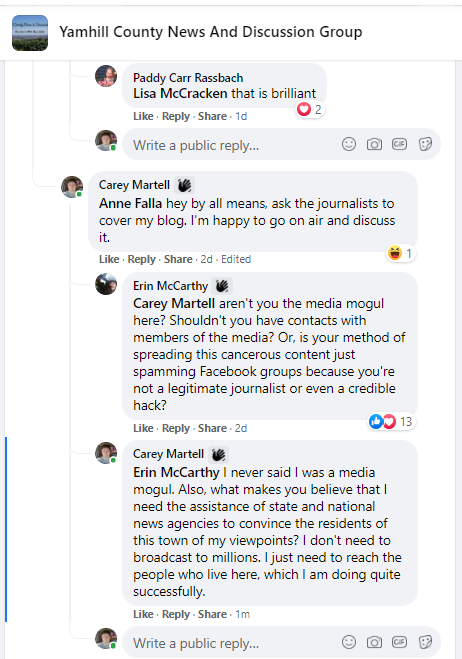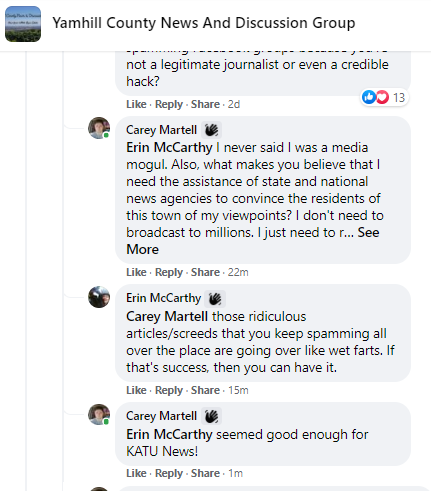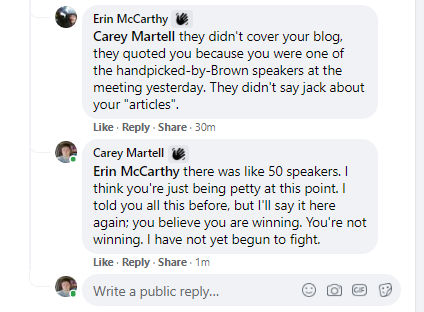 Refuting an Accusation That I am Harassing Public Figures By Publicly Disagreeing With Their Public Comments and Political Activities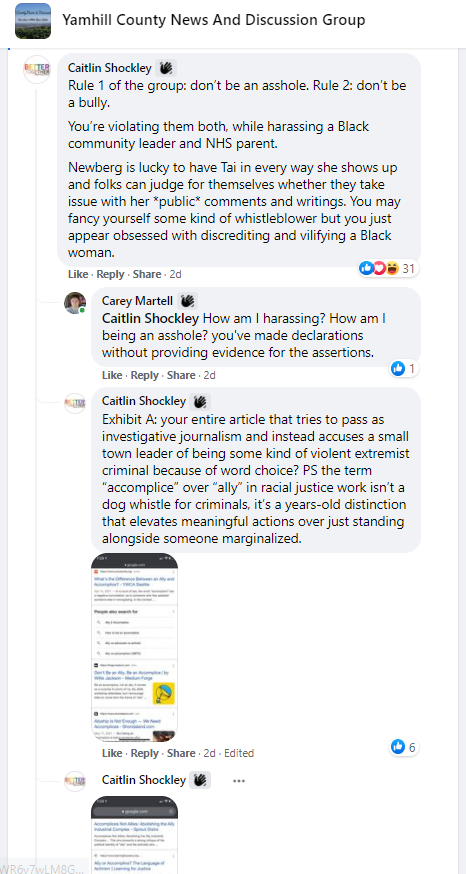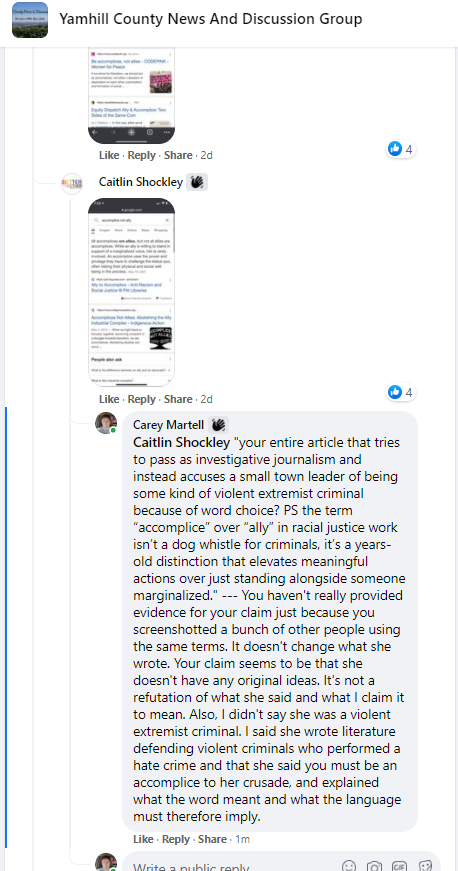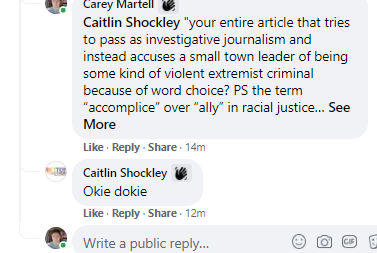 Assorted Debates With Various People Who Try to Claim I am Harassing Tai Harden-Moore and Believe I Don't Have Freedom of Speech Based On My Gender & Ethnicity
Part of the framework of Critical Race Theory is to convince people that anyone who criticizes the movement is morally wrong, usually by fixating on their ethnicity, such as being "white". They claim it is morally wrong to criticize someone who is African-American if I am "white", even if what I am criticizing is their political activity.
To be clear, I am not criticizing the personal life of Tai Harden-Moore. I have zero interest in her personal life. My only interest is in her actions within the public sphere and public forum which impact the lives of town residents, and that is what my speech is designed to criticize.
Furthermore, I am not a racist. I do not believe in the concept of human races at all. In fact, I have written an entire book of philosophy about how there is only one human species and races do not exist. That is one of the core premises of my personal moral philosophy that I have shared with others by publishing a collection of essays discussing it. I do not harbor racial prejudices because I simply do not believe human races exist at all.
Yet, the accusation is frequently labeled against me by detractors who wish to insult my character instead of refuting the facts in my articles.
Here is an assortment of people who claim I am harassing Tai Harden-Moore and believe I am not entitled to my right to free speech based on my gender and ethnicity being different than that of Tai Harden-Moore. Their views are a sexist and racist viewpoint that is designed to undermine our republic by silencing people into submission with false accusations of racism. I believe that when people express this kind anti-American rhetoric designed to intimidate and bully people away from utilizing their rights as citizens of our country, these anti-American claims must be refuted. So, I responded to each of their claims and their demands for my censorship with a rebuttal.
What follows is a few of these exchanges,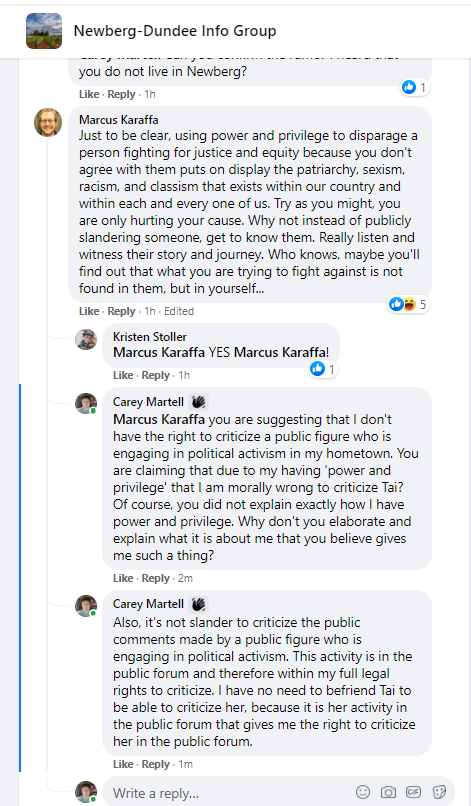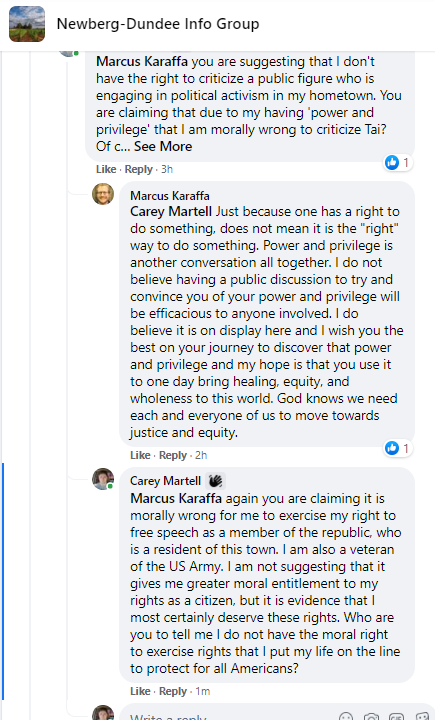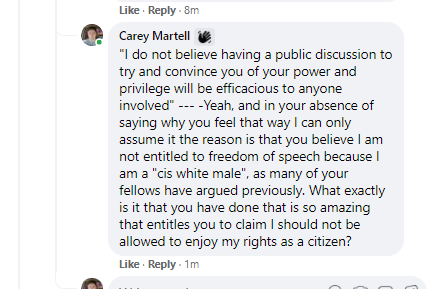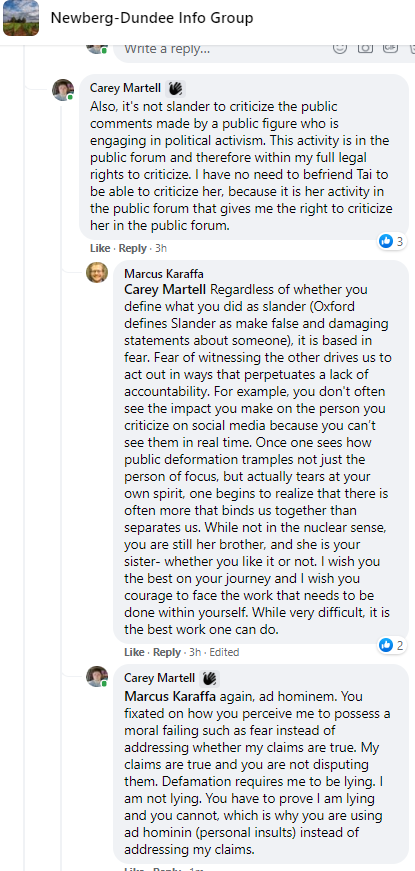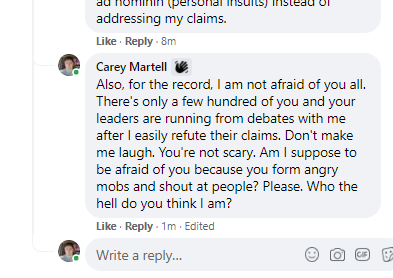 ******************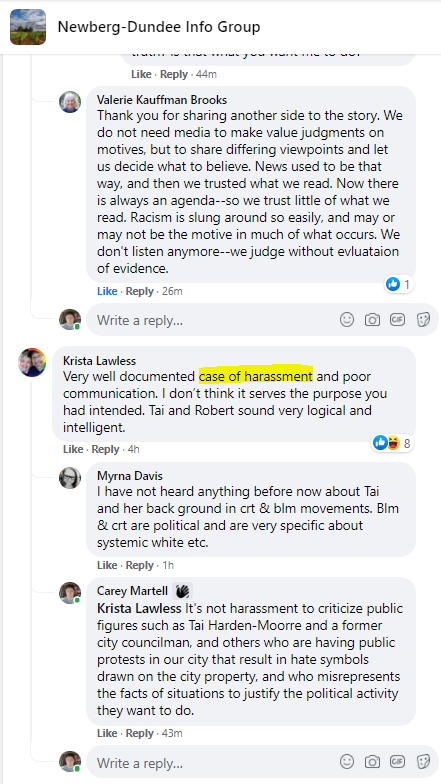 *********************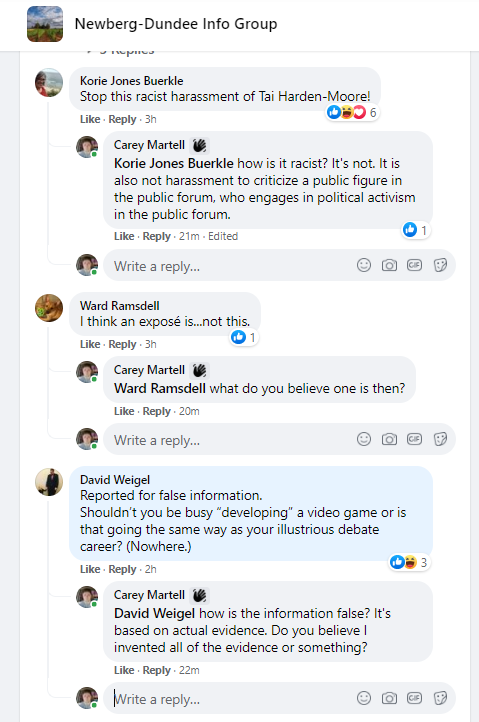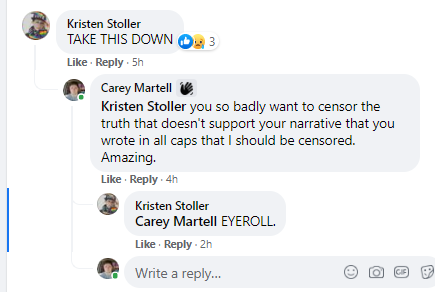 Various People Who Accuse Me of Being a Secret Racist With No Evidence Provided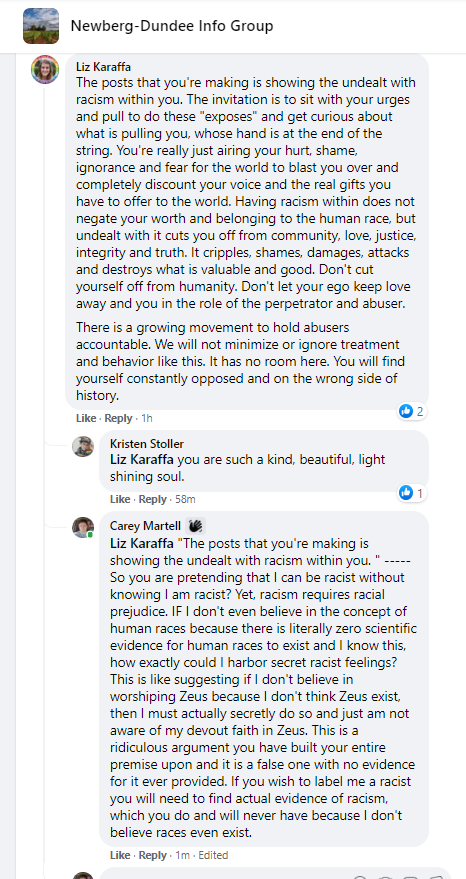 ********************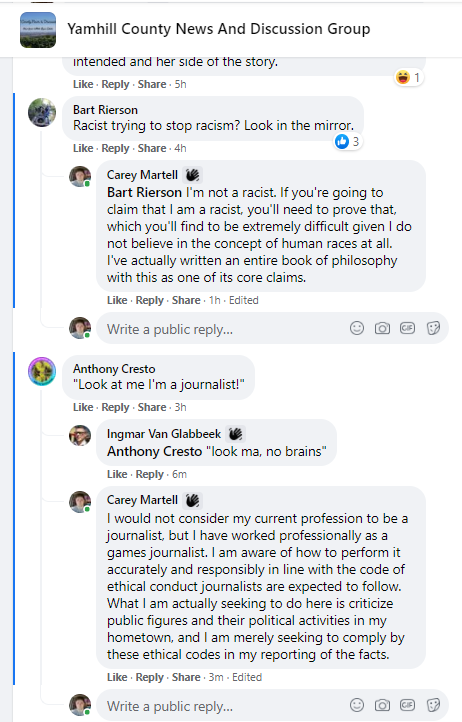 **********************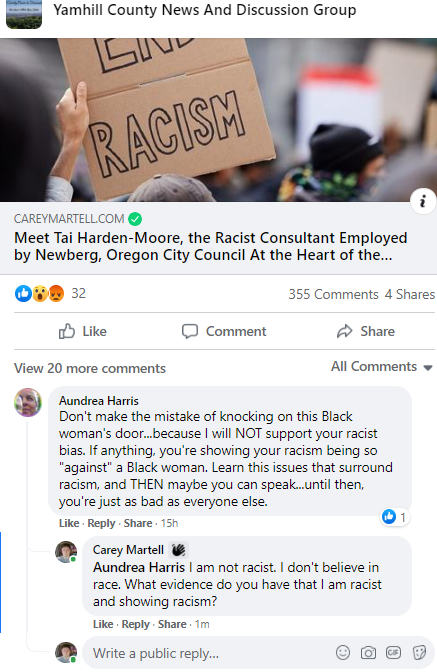 ****************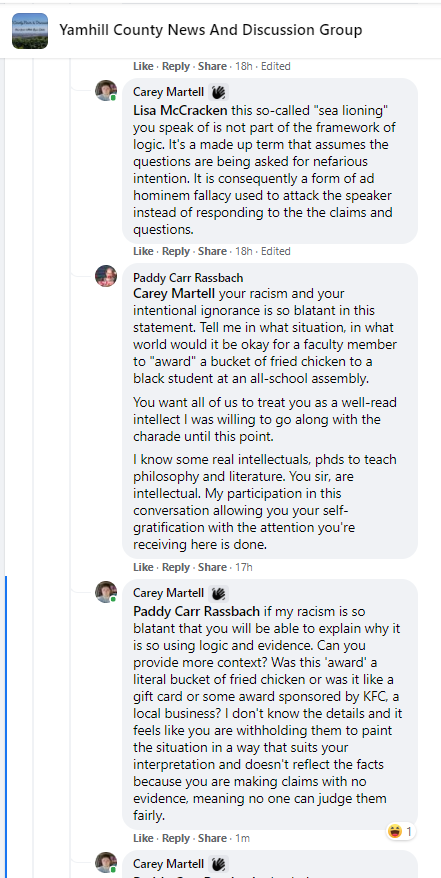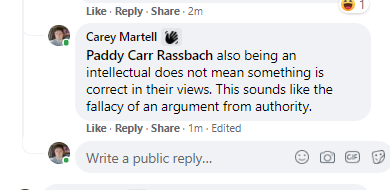 ******************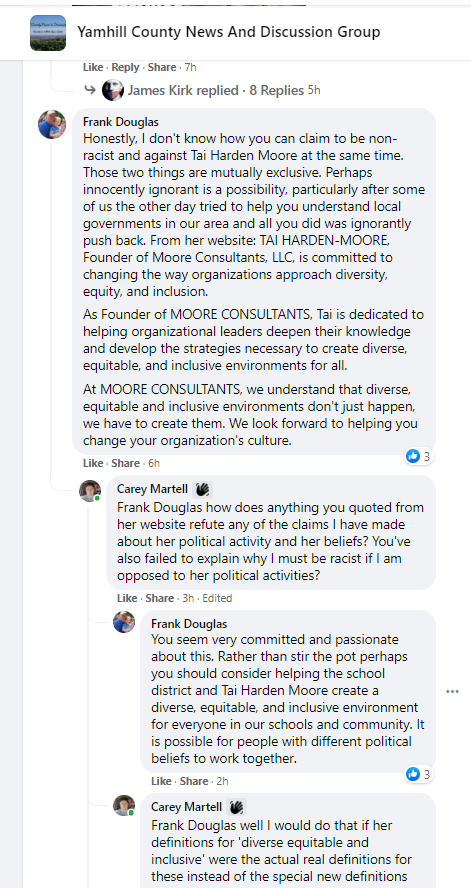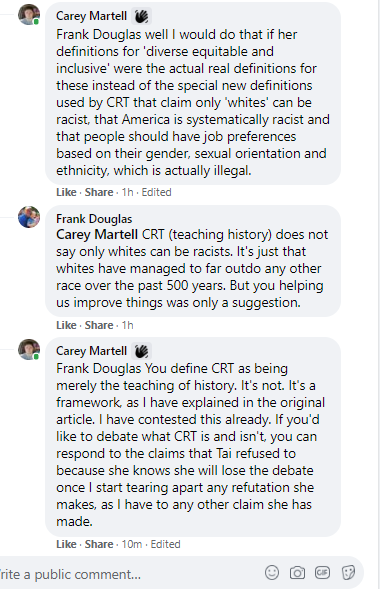 He blocked me after my last rebuttal, which is why you can't see the reply bars anymore on the final screenshot. I think it's important to note that when I suggested he respond to my specific claims made in this article that he was commenting on, he decided to block me instead of refuting them.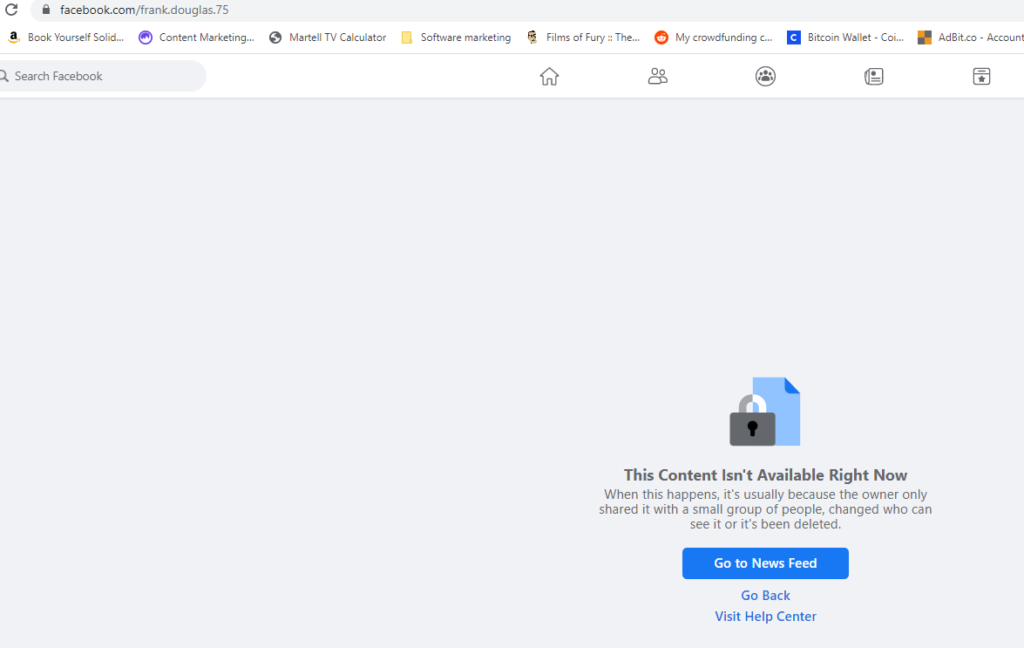 Responding to Questions of Whether I Truly Am in Newberg or Not
Apparently, there is a rumor circulating that I am not a member of the community. It's not true.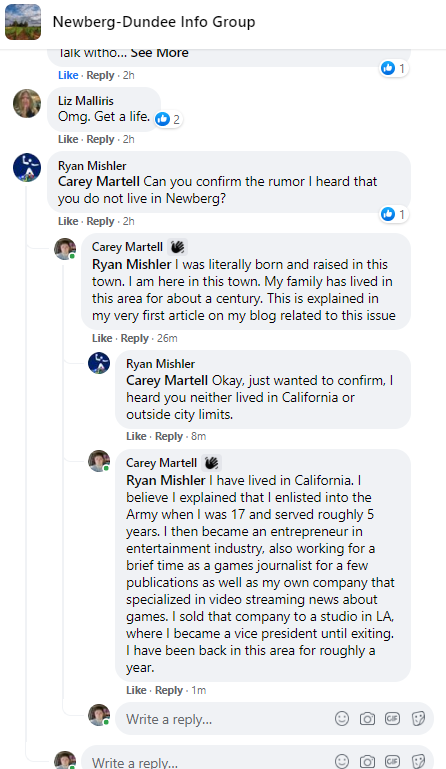 **********************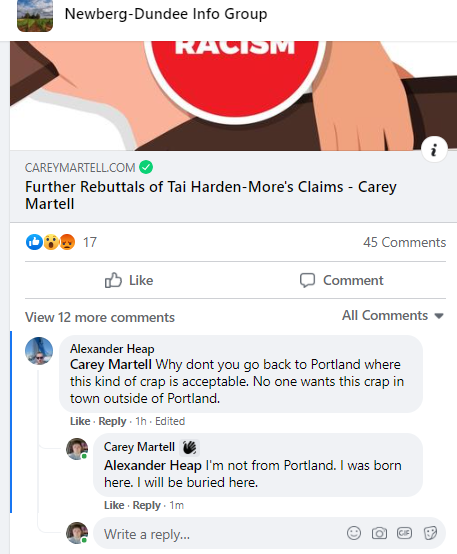 Debate About Whether the Rosa Parks Incident at the School Was Actually a Racist Incident or Not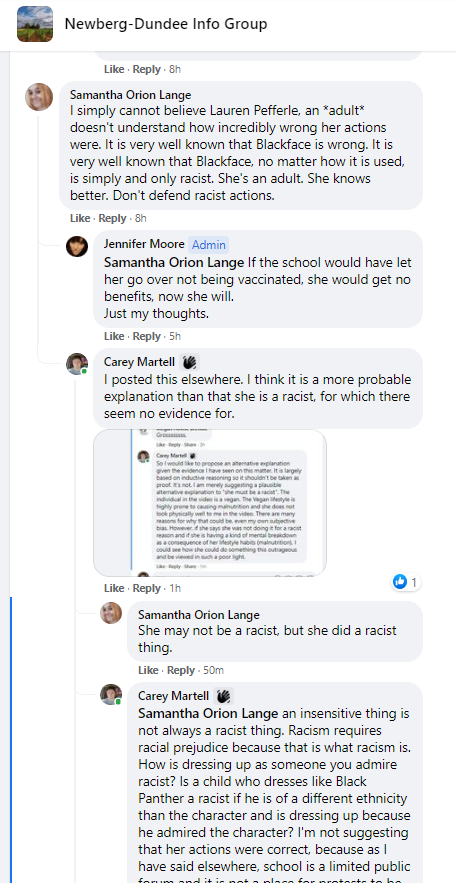 (This is the post I reshared as an image in my comment, which is my alternative explanation for why she dressed like Rosa Parks)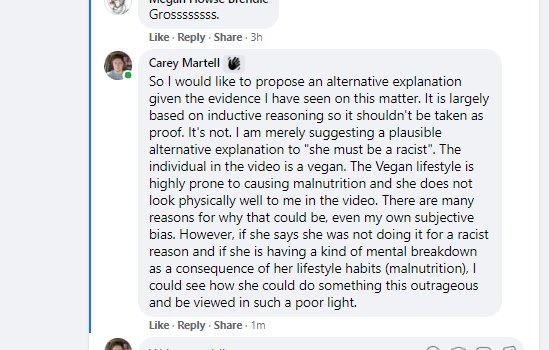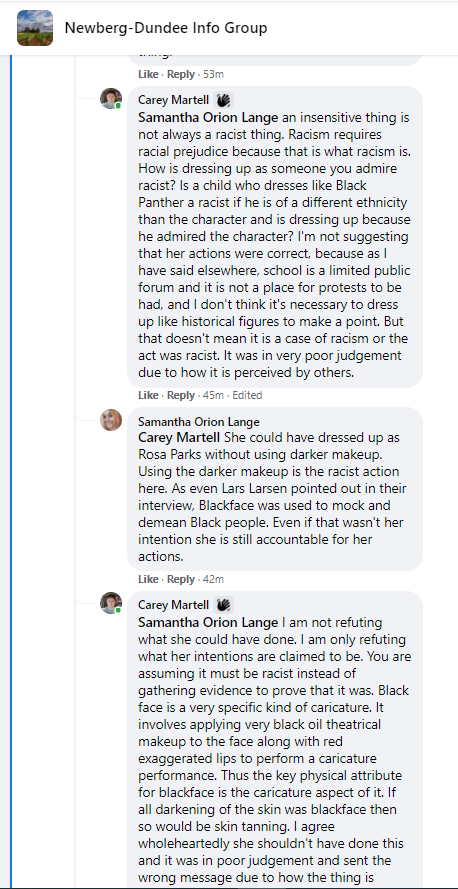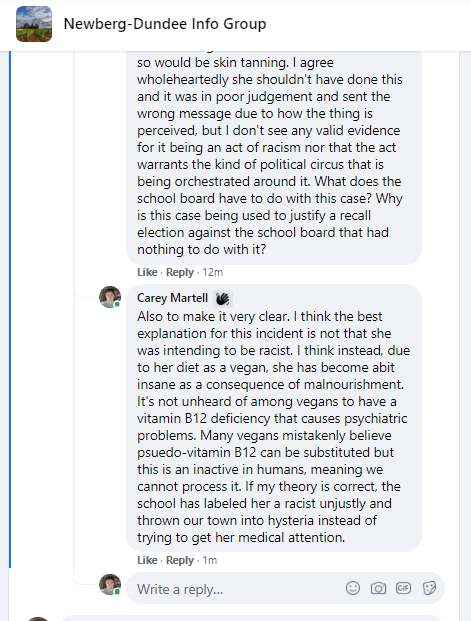 Why Are The Only People in Newberg Using Hate Symbols The Ones Who Believe in Critical Race Theory?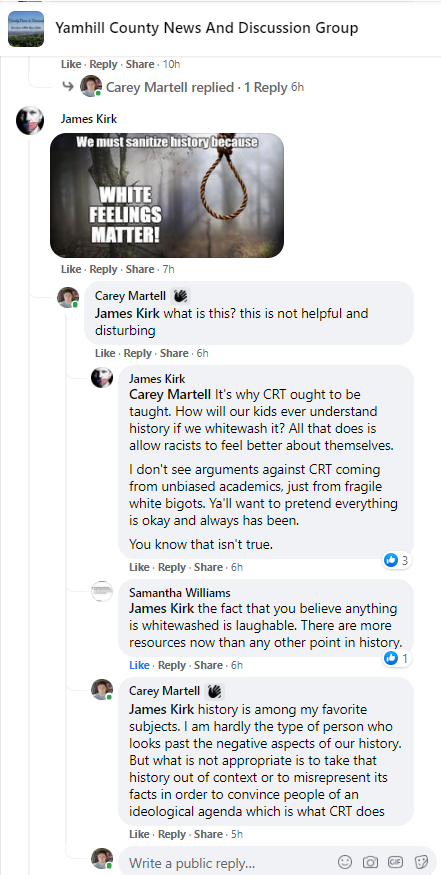 That's probably enough for tonight. Hope you found some useful takeaways from these.