Update 5/3/2016: I am no longer affiliated with Power Up TV, having sold the company last year. This article remains for historical purposes. If you'd like the latest info on starting a YouTube MCN consider my book How to Start Your Own YouTube Network: An Insider's Guide. 
You can also hire me as a consultant.
***
While pitching Martell TV  to investors I have often had angels grill me about my projections concerning the cost to advertise our internet stations and gain a userbase. When I reveal I'm only intending to spend about $25,000 on marketing during the first quarter, some have insisted that isn't enough and it will take hundreds of thousands of dollars to gain a huge userbase for our app. They dismiss anything else I'd say after that, writing me off as ignorant about marketing to this demographic, or a crazy person.
I have tried to explain that, because of an affiliate program,  word-of-mouth will actually help us a lot, but I then get accused of underestimating how easy it is to make multi-level marketing work.
So…. I'm writing this article to explain how I re-branded and launched my YouTube network Power Up TV, using basic SEO and multi-level marketing to build a userbase with massive reach in a short amount of time with very, very little money spent on marketing.
Like seriously. A new Playstation 4 costs more money than my marketing did.
To make it easier to understand how things happened, this article will be broken down into a timeline.
Feb '13 to March '14
Without any investor money, my team and I pooled together our own money over a period of one year. We raised a total of $40,000 to cover costs of living in a house I rented in Austin, and to fund development of the Martell TV app to the point we could embed Station feeds into external websites. It's only 20% of what I actually intended it to be, but it's a functional thing that users can interact with.
March '14.
I registered the domain name powerup.tv on March 7th for $9.99, and created the Power Up TV YouTube channel on March 12th.
On March 12th, using fiverr I paid $15 for a logo.
I also commissioned a video spokesperson video for $20, also from a fiverr creator. The video was not completed until March 30th and played no role in our first month of marketing efforts.
I setup the website myself using a $45 WordPress theme I'd bought for a different website project. The Power Up TV site used no plugins, but it is using the Martell TV system for the embeddable TV Station schedule. The website is hosted on a server that costs me about $35 a month to maintain. When I was done the site looked like this;
I paid for no internet marketing during March; I conducted only two marketing actions.
1. I sent an email announcement to all the applicants we had collected to a mailing list of 1,228 subscribers. This list was accumulated via a form on the http://martellbrothers.com/ website over the year between us announcing Martell TV and actually getting the embeddable Station done.
2. I posted links to the site into multiple YouTube-related Facebook groups and several of the Pages I operate. I did this only once a week, spending no more than 10 minutes each time.
I did three types of posts; a long explanation about the network, a short explanation and then a short post describing our affiliate recruiter program; through our dashboard each recruiter receives a special URL code to share with other YouTubers. Any YouTube channel who joins our network using their URL code will be affiliated to the recruiters account, and for one year they earn 15% of the ad revenue we collect from that channel.
Can this alone account for all our growth? Well, no.
Google-Fu and SEO
I'm pretty good at search-engine optimization, and was able to get my funnel pages to appear at the top of Google search results for some decent keywords related to YouTube partnerships. For example,
The page in question is from the main Martell Brothers website, where a nice big shiny "Apply Now" button awaits our prospective applicant connecting him / her to our Power Up TV dashboard.
Again, it cost me $0 to gain new users this way. Not to brag too much, but this was very, very easy for me to achieve with basic SEO techniques. And I'm not speculating that applicants were finding us through Google search; they would actually tell me when they applied to the network.
On March 31st, this is what the Power Up TV network statistics looked like:
Again. At this point I have not paid for any marketing. This is 100% "free" marketing.
I will also add that we had a total of 194 channels apply to the network, but I rejected 30 of them for their channels not being in good copyright status.
On March 31st I did our first paid advertisement; a Facebook promoted post. I spent $15 on it. The ad was targeting to focus on males based in the US and Canada who liked YouTube, Machinima.com and Maker Studios.
I also updated the website by embedding a YouTube video into the front page, and editing a shorter version of that same video that focused just on recruiters. So now the Power Up TV YouTube channel has one video that has been SEOed for people who want to join a YouTube network, and another video that has been SEOed for people who want to make money with YouTube.
Our website traffic stats at the end of the month were:
Obviously in March people were coming to join our network and not to watch our Station. Which is expected since the Station repeated the same video schedule for the entire month (lol). Because the network was brand new, I hadn't even begun creating a real Show lineup and just filled the Stations with content from popular YouTube shows mixed with some from our network channels.
April '14.
On April 1st I moved from Austin, Texas to Los Angeles, California. I lived out of a youth hostel with all my belongings fitting in a rucksack, including a Chromebook laptop.
I attended the YouTube Creator Space LA event celebrating the Annoying Orange's 1 billion view milestone, and mentioned the network to any interested parties. I also talked about our affiliate program.
The Facebook campaign also ended and this was the result:
I did notice during the campaign that several people applying to our network mentioned they had been "screwed" by other networks, or saw the FB campaign. I also believe that, based on the number of monetized views their channels receive every month, I will make back the $15 I spent on this campaign. This implies FB marketing can be very effective for reaching this disenfranchised demographic. That said, I was very unhappy with the amount of reach this campaign generated so I tried another one.
This time I got a much higher ROI; my $15 stretched much further.
Making Facebook ads work is largely about getting the wording of your offer right.
On April 6th I added links to the Power Up TV website to the video descriptions on my channels, and also used the InVideo programming tool to promote the network video.
The channels I used were,
As of April 6th the network stats looked as such:
Facebook plugging and marketing really worked well; people would mention they had seen the ad when applying to the network.
On April 7th (the next day after the FB promoted post that received 100k views for $15) our stats looked like this:
Not bad, right?
Let's talk about the effectiveness of the affiliate program. I had 70 channels apply to join our network who were tagged with the recruiter code. We partnered all but 5 of them (they had copyright strikes).  This means when considering the value of a partner, we can't just look at their own channel's ad revenue; partners also help recruit more channels into the network through their subscriber fan-bases.
At this point (April 7th 2014) I have spent $110 on the network.
x2 $15 Facebook promotions
x1 $15 Logo art
x1 $20 Promotional video
x1 $35 web hosting
x1 $9.99 website domain name
I'm not at liberty to say how much money this generated for us, but the average YouTube CPM is around $2.37, meaning for every 1,000 views a video usually earns about two bucks. We have a 70% ad revenue split with our partners, and Power Up TV shares the remaining 30% with Freedom 50/50. If you can follow the math, you'll know that it's not a lot of money but it's more than $110.
By the 9th of April, our numbers were starting to skyrocket as larger channels joined up:
Again, I am not trying to brag here. I am simply sharing the honest truth about how much money it cost me to start this YouTube network and grow it to have over 200 partners who have a combined 755,000+ subscribers and over 25 million video views. In a month (remember, I registered the powerup.tv domain name on March 7th).
Can you imagine what kind of explosive growth I'd have been able to achieve in the same amount of time if Martell TV had received the $500K seed investment I was looking for? I can, because I've known exactly what I'd do with the money for a year and it's really painful to think about, especially when I hear about startups who get a bunch of seed money and never even manage to finish developing a product before burning to the ground.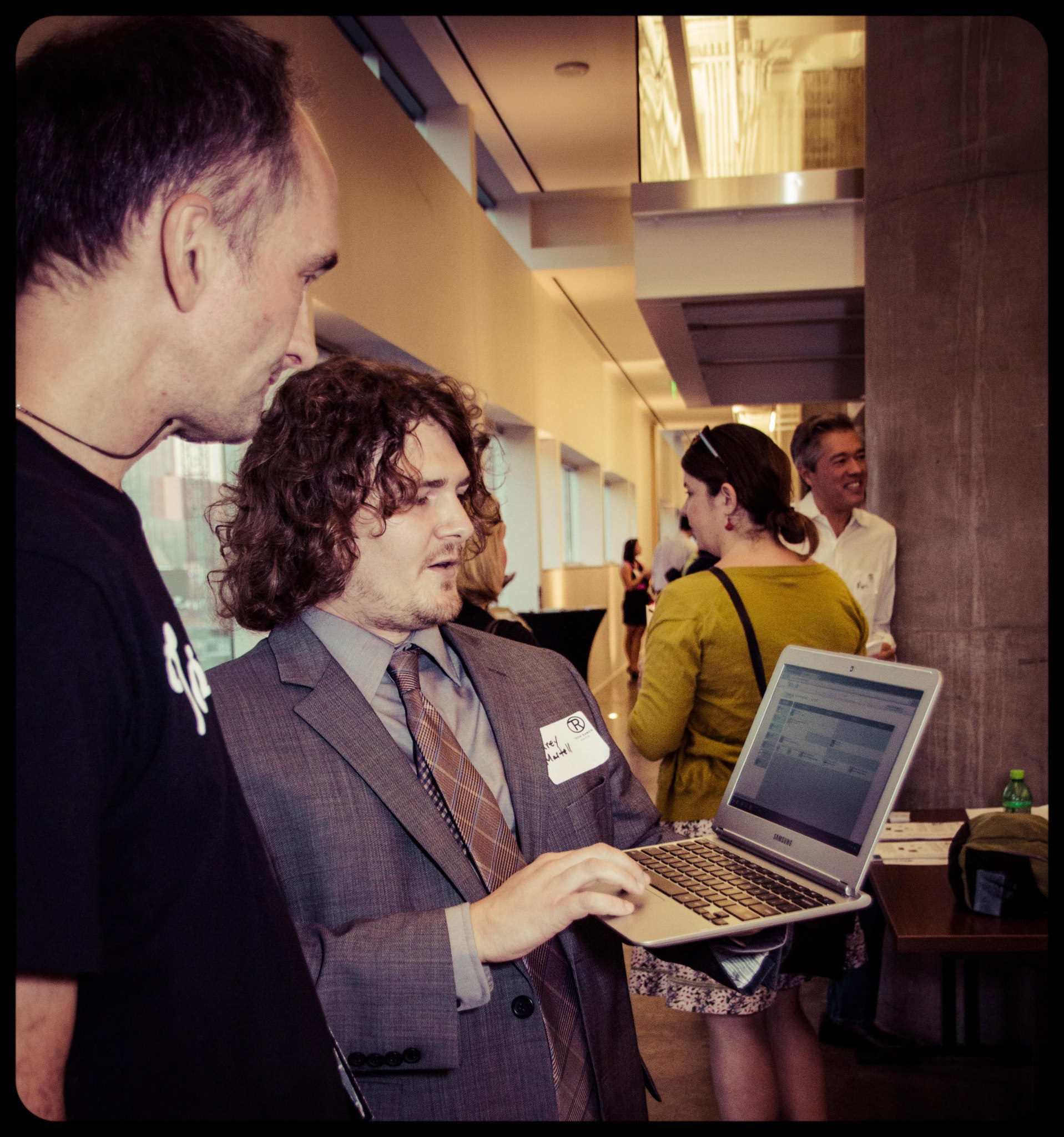 I don't know how other startup founders spend money. I never worked in the big upscale corporate world. I've always had to work with nothing, so I know how to stretch a dollar very far. I have no doubts in my mind that if I had even $250,000 in my war chest I could make this company huge.
But with $500,000 I know I can build an empire. We already have a strong road-map for our off-YouTube platform, and I can't say the same for many MCNs out there. People are choosing to join my network over much more established brands like Maker Studios and Machinima. There are reasons for that; there are things that make us unique. You show people something like Martell TV that they've never seen before and they'll naturally want to be apart of something that feels fresh and innovative.
But right now I would accept a micro-investment of $10,000 to start the next phase of Power Up TV (i.e. building a promotion tool which I've dubbed 'TubeSprouter', which will allow me to leverage the network's subscribers to build an audience for all the channels).
Who wants to work with me?
***
Update 5/3/2016: I am no longer affiliated with Power Up TV, having sold the company last year. This article remains for historical purposes. If you'd like the latest info on starting a YouTube MCN consider my book How to Start Your Own YouTube Network: An Insider's Guide.